Investment in customer experience has a multifold impact on your business. This blog provides an 8 step roadmap to transform your service advisors into customer engagement experts and your customers into engaged and loyal customers.
Questions for your dealership customers:
Have you spent frustrating time in the dealership trying to get a service update or talk to your advisor? 

Have you been actively shopping for a car and have you been taking your vehicle for service but nobody in the dealership knows that you are a prospective customer?

Every time you go to your neighborhood dealership for car service, do you feel that the employees do not personally know you or your car?

Does every auto offer or flyer you get seem to be unrelated to what you are looking for?
If your customers have answered yes to one or more of the above, these are serious customer engagement and loyalty red-flags for your dealership.
"Service experience can influence 85% of dealer customers when deciding whether or not to purchase a vehicle from the dealership"1
Contributing Factors:
Siloed Information: Typically, your dealership information may be scattered across computer systems used by your dealership – dealer management system (DMS), customer relationship management system (CRM), marketing automation system, and possibly more. To engage with their customer, the dealers need all the information regarding the customer, their preferences, profile, and more to be available. Customer engagement is with the dealership and not driven by how your computer system works.
Computer Systems Driving Customer Experience: Dealers may feel bound by the computer system process and input data requirements, which may frustrate the customer. Remember those DMS screens with seemingly hundreds of fields?
Missing External Information: Dealers typically are limited to direct transactional information about their customer, and hence have a minimal view of the customer. Transactional data restricts the dealer's understanding of the likes, dislikes, preferences, and needs of the customers, and knowing what drives their purchases.
Missing Intelligence: Transactional Computer Systems, by the inherent nature of their design, are not meant to drive real-time decision making needed for customer engagement.
Guidelines for Enhancing your Customer Experience and Engagement: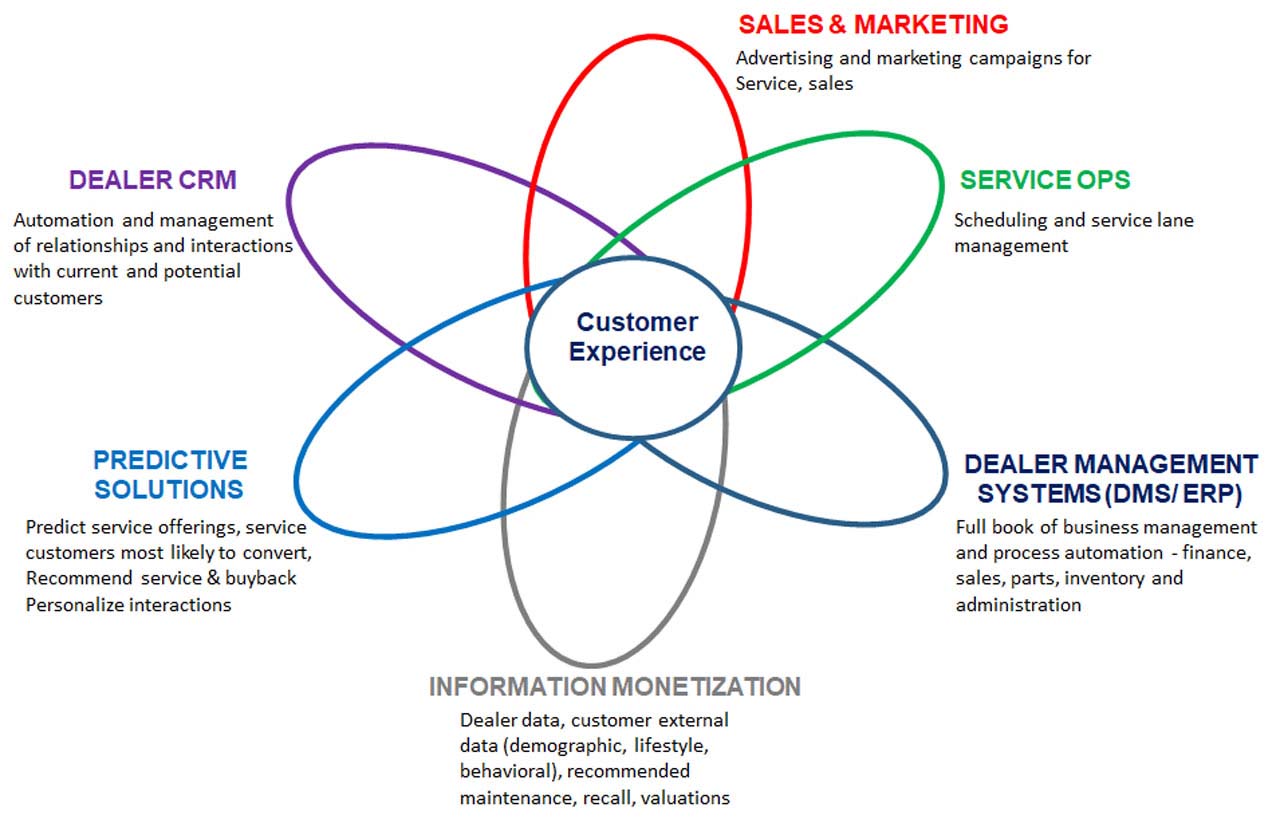 So how do you design the optimal customer engagement for your customers? Here are the guidelines:
Customer first: Customer engagement starts with the customer. It is not the other way around where your customer engagement is driven by what the system needs. "86% of customers are willing to pay more for improved customer experience." 2
System Independent: As the above petal diagram illustrates, customer engagement systems and tools cut across the underlying systems or channels that the customer interacts with, and should not be constrained by the inability of systems to talk to each other.
Digital:  Digitization has become the standard expectation when interacting with businesses. For example, providing the ability for dealer customers to e-sign service orders, get service records, or vehicle inspection reports without having to deal with paper. The best experiences are end-to-end digital experiences. "Generation X and the Millennials which at 55% constitute the largest customer base for dealers today and along with Generation Z will be more than 3/4th of the dealer's customers very soon, expects fully digital services"  3
Simplistic: The customer does not care about the information you need for your systems or accounting. The customer experience needs to take the minimalist's path – Ask for minimal information, prefill where appropriate, guide the customer through the process and make it intuitive. "Less than 25% of dealers use online tools or tablets in-store, both proven to increase retention." 4
Relevant information available: Engagement starts with having full information about the customer. For example, when your service advisor is talking to the customer, if they have a 360-degree view of customer and vehicle, they can engage the customer, have an intelligent discussion, and build a relationship rather than be an order entry person."More than half of consumers (57%) are okay with providing personal information (on a website) as long as it's for their benefit and being used in responsible ways." 5
Intelligent: Customer engagement systems need to be smart, whether they are providing a 360-degree view or giving intelligent recommendations regarding service, parts, or vehicle purchase. This intelligence is what most of the successful businesses today are thriving on, where machine powered deep engagement and recommendations are driving-up revenue and adoption. "35 percent of what consumers purchase on Amazon and 75 percent of what they watch on Netflix come from product recommendations based on such algorithms." 6   
Self-service: Self-service has become another norm in this digital age. It not only elevates the customer experience but can drive significant operational efficiencies. In auto dealerships, it starts with the primary customer engagement touchpoint, service appointments, by providing customers to book service appointments through the website, an app, voice assistant or chatbot. It also means providing updates on service progress, view service records at your convenience, and ability to have a direct chat with the advisor. "Gartner predicts that by 2020 a customer will manage 85% of the relationship with an enterprise without interacting with a human." 7                       
Personalization: Lastly but also one of the most critical elements, Personalization. Deep Personalization drives best in class customer engagement systems. Personalization is much more than addressing a person by name, which is important but just the starting point. It means knowing the customer preferences and motivations and predicting their needs."79% of consumers say they are only likely to engage with an offer if it has been personalized to reflect previous interactions the consumer has had with the brand."   8
One final aspect to remember while designing your customer experience systems. The customer experience is not just limited to your customer. Your dealership personnel, who have an integral role to play in defining customer experience, need to be armed with the right tools that have a great user experience as well.
Investment in customer experience has a multifold impact on your business. You turn your customers into engaged and loyal customers. Additionally, you can transform your service advisors into customer engagement experts rather than order entry personnel.